Description
No joke, these fruit cakes are cute as can be, never dry, full of flavor and infused with citrusy holiday cheer! Upgrade your fruitcake with phyllo!
---
Special Equipment
A four cavity tube pan (as pictured in recipe directions).
---
Ingredients
1 roll Athens® Phyllo Dough (9×14"), thawed
1 1/4 cups sugar, divided
1/2 cup water
1 teaspoon honey
1/2 stick cinnamon
1″ x 3″ strip orange peel
1/4 cup orange liqueur
2 large eggs
Zest from 1/2 orange
2/3 cup plain Greek yogurt
1 teaspoon vanilla extract
1/2 teaspoon baking powder
2/3 cup olive oil, divided
2/3 cup candied fruit mix, chopped
1 tablespoon all-purpose flour
1/2 cup pecans, chopped (+additional pecan halves for garnish)
3 tablespoons red and green candied cherries, halved
1/4 cup confectioners sugar (optional)
---
Directions
Thaw one roll of phyllo, following thawing instructions on the package. Preheat oven to 175ºF. Brush a 4 cavity mini tube pan tray thoroughly with olive oil.
Tear phyllo into small pieces, approximately 2″. Spread on one or two baking trays and place in oven for 1 hour or until the phyllo has dried out. Allow to cool.
Increase oven temperature to 350ºF.
In a small saucepan, combine 1/2 cup sugar, water, honey, cinnamon stick half and orange peel. Bring just to a boil then reduce heat and simmer 7 minutes. Remove from heat, add orange liqueur and set aside to cool.
Using a hand mixer, beat eggs and 1/2 cup sugar together in a large bowl for at least 5 minutes until pale yellow and starting to thicken (this is a very important step for the cake to rise). Mix in zest, yogurt, vanilla extract and baking powder until combined. Add oil and mix. Crumble phyllo and fold gradually in small amounts into batter. In a small bowl toss fruit and flour together coating the fruit. Add floured fruit and pecans to batter and incorporate.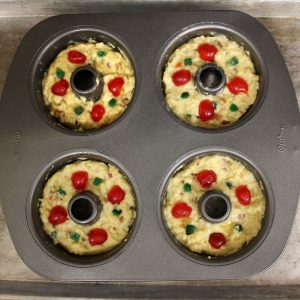 Transfer batter to prepared cake pan, distributing it evenly between the four cavities. Smooth out tops and decorate with cherry and pecan halves. Place cake pan on a sheet pan and bake 30-35 minutes or until top is golden and a tooth pick inserted in center comes out clean.
Remove orange peel and cinnamon stick from cooled syrup and slowly pour over hot cakes. Do this carefully, allowing time for the syrup to be absorbed a little as you pour. Let cakes rest in pan for at least 1 hour. Run a thin knife around sides of pan loosening cakes. Remove from pan and place on serving dish. Serve, or for more intense flavor, allow to sit overnight, loosely covered at room temperature. Sprinkle lightly with confectioners sugar if desired.
---
Nutrition
Serving size: 1 half cake (136g), Amount per serving: Calories 480, Total Fat – 25g, Saturated fat – 4g, Trans Fat – 0g, Cholesterol – 40mg, Sodium – 125 mg, Dietary Fiber – 2g, Total Carbohydrate –58g, Total Sugars – 38g, Protein –5g, Vitamin D – 0%, Calcium 6%, Iron 6%, Potassium 2%
---
Tips
This recipe is great to use up your saved extra sheets of phyllo from other recipes. Use about 8 ounces.
---