Description
Too many Valentine chocolates and no diamonds? What a problem! With this gem of a recipe, pistachio honey phyllo cigars offer a delicious crunch to chocolate ganache dip. Problem solved.
---
Ingredients
1 roll Athens® Phyllo Dough (9×14"), thawed
1/4 cup pistachios, shelled
1/4 teaspoon cinnamon
2 teaspoons sugar
1 stick unsalted butter, melted
1/4 cup honey
1 cup heavy cream
12 ounces assorted solid chocolate candies, chopped (dark chocolate, milk chocolate, etc.)
---
Directions
Thaw one roll of phyllo, following thawing instructions on package. Preheat oven to 350°F.
Place pistachios, cinnamon and sugar in food processor and pulse several times until mixture is a fine grind. Transfer to a small bowl and set aside.
Unroll and cover phyllo sheets with plastic wrap and then a slightly damp towel to prevent drying out. Place one sheet of phyllo on work surface with long side closest to you, lightly brush with melted butter and sprinkle with a little pistachio mixture. Layer and repeat with 8 more sheets of phyllo forming a stack of 9 sheets. Do not sprinkle nut mixture on top layer. Cut stack into 6 strips each approximately 2 1/4″ x 9″. Drizzle 1/2 teaspoon honey lengthwise in the center of each strip. Starting at long side, tightly roll each strip into cigar like roll. Place on baking sheet seam side down. Brush with butter and cut each in half to create 4 1/2″ long rolls. Repeat procedure with remaining phyllo. Bake 15-20 minutes or until golden brown.
Bring heavy cream just to a boil in in a small saucepan over medium high heat. Remove from heat and gradually whisk in chopped chocolate until smooth. Transfer to a fondue pot, mini slow cooker or other small heated serving bowl. Serve phyllo rolls with chocolate for dipping.
---
Nutrition
Serving size: 1 piece (32g), Amount per serving: Calories 140, Total Fat – 9g, Saturated fat – 5g, Trans Fat – 0g, Cholesterol – 20mg, Sodium – 35mg, Dietary Fiber – 1g, Total Carbohydrate – 14g, Total Sugars – 8g, Protein –2g, Vitamin D – 0%, Calcium 2%, Iron 0%, Potassium 2%
---
Tips
Prepare in advance. Baked phyllo rolls can be stored at room temperature in airtight container for up to 2 days.
No fondue pot? No problem, a mini slow cooker is perfect!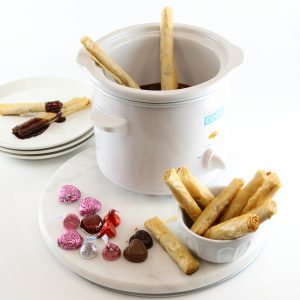 ---