Description
Bursting with the flavor of fresh pineapples and complemented by a creamy tropical sauce, these flaky desserts are sure to please.
---
Ingredients
15 sheets Athens® Phyllo Dough (9" x 14"), thawed
1 can (14 ounce) coconut cream
1/3 cup mango nectar
1/3 cup rum
½ cup plus 2 tablespoons light brown sugar, divided
6 tablespoons coconut oil, melted, divided
1 ½ teaspoon ground cinnamon
½ teaspoon ground nutmeg
1 fresh pineapple, sliced in 1/4-inch rings
3/4 cup raspberries or diced ripe mango
unsweetened coconut, toasted, for garnish
---
Directions
Thaw one roll of phyllo, following thawing instructions on package. Preheat oven to 375ºF.
In a medium saucepan combine coconut cream, mango nectar, rum and 1/2 cup brown sugar. Over medium heat, whisk until smooth and cook 12-15 minutes or until it starts to thicken. Remove from heat and bring to room temperature. It will continue to thicken as it cools. Once at room temperature, cover and store sauce in refrigerator.
In a small bowl combine 2 tablespoons brown sugar, cinnamon and nutmeg. Unroll and remove 15 sheets of phyllo placing them on work surface. Cover with plastic wrap and then a slightly damp towel to prevent drying out. Reroll unused phyllo sheets and follow storing instructions on package. Place one sheet of phyllo on work surface and lightly brush with coconut oil. Sprinkle with 1/4 teaspoon sugar mixture. Layer with 4 more phyllo sheets brushing each with oil and sprinkling with sugar mixture. Repeat procedure to make 2 more stacks of 5 sheets.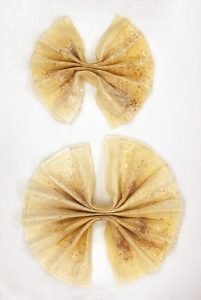 Starting at a short end, fold one stack of phyllo like a paper fan with 1/2″- 3/4″ folds. Pinch in the center so it resembles a bow tie. Lay on baking sheet. (Be sure to cover the remaining stacks with plastic wrap as you work.) Repeat process with second stack of phyllo. Cut third stack of phyllo in half horizontally. Fold each half as above making 2 smaller bow ties, place on baking sheet.
Bake at 375ºF 12-15 minutes or until golden brown. While still warm, cut each "bow tie" apart at center, creating a total of 4 large fans and 4 small fans.
In a large sauté pan, melt 3 tablespoons coconut oil. Add pineapple slices and mango (if using)  do not sauté raspberries. Sprinkle with remaining sugar mixture and sauté 1-2 minutes on each side. Cut pineapple into 1″ pieces. Place warmed fruit over large size phyllo fan. Garnish with raspberries (if using), coconut flakes and small phyllo fans.  Drizzle with tropical rum sauce.
---
Nutrition
Serving size: 1 portion (400g), Amount per serving: Calories 730, Total Fat – 24g, Saturated fat – 21g, Trans Fat – 0g, Cholesterol – 100mg, Sodium – 140 mg, Dietary Fiber – 4g, Total Carbohydrate – 119g Sugars – 83g, Protein – 5g, Vitamin D –0%, Potassium – 6%, Calcium 4%, Iron 6%
---
Tips
If sauce is too thick to drizzle, it can be heated for a few seconds in the microwave.
Pineapple slices and mango are also great grilled instead of sautéed.
---