Add this to your list of go-to sweets to make for a crowd! Bernice from Baran Bakery blog took the classic Boston Cream Pie dessert you know and love and made mini versions using our phyllo shells. Their flaky chocolate glazed crusts, vanilla custard filling, and chocolate toppings are a simple and easy recipe for delight.
---
Fall is here and there's pumpkin spice everything everywhere! To those who may not be huge pumpkin fans, let me introduce you to these cute Mini Boston Cream Pies. Taking the glorious flavors of Boston Cream Pie and Athens® Phyllo Shells as the crusts, I made these simple and delicious mini pies. To elevate them to the next level, I dipped the shells in a chocolate glaze before filling them with a vanilla custard mixture.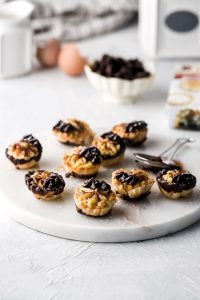 What is Boston Cream Pie?
Fun fact: Boston Cream Pie is actually cake. It's made up of two layers of yellow butter cake filled with vanilla custard and frosted with rich chocolate icing. It's only called a "pie" because when it was developed, cakes and pies were commonly baked in the same pan. So, the terms "pie" and "cake" were used interchangeably, but "pie" happened to stick more strongly for the recipe.
What Crust Do You Use for Mini Boston Cream Pies?
When it comes to anything bite-sized, I always reach for Athens® Phyllo Shells. They're delicious, easy to work with and pair well with any treat – sweet or savory! I keep a stock in my freezer. When I'm ready to use them, I defrost them overnight in the fridge. To give them an extra touch of crispiness, I bake them in my toaster oven at 400°F for 5 minutes. Then, I let them cool for a little bit before adding any filling.
How Do You Make Vanilla Custard for Boston Cream Pie?
Unsurprisingly, there are millions of vanilla custard recipes out there. Some people have their own unique way of making custard, but I prefer this method. It's simple to prepare, full of vanilla flavor and has the perfect consistency for filling Athens® Phyllo Shells.
What You'll Need:
Egg yolks
Granulated Sugar
Cornstarch
Milk
Butter
Vanilla
To start, melt the butter into the milk and then add in the egg yolks, cornstarch, and granulated sugar. Whisk it all together over medium heat until you see the first bubble appear. After the first bubble appears, whisk vigorously for one minute. Remove the custard from the heat and pour it into a heat-safe bowl.
I only add my vanilla bean paste or vanilla extract to the custard after it's been removed from the heat, that way its flavor is stronger. If you are using actual vanilla beans, you may want to steep those in the milk before cooking.  
Storing Mini Boston Cream Pies
I recommend making Mini Boston Cream Pies fresh for the best flavor, but they can be stored in an airtight container in your refrigerator for up to a week. Serve them cold, slightly chilled or at room temperature – whatever your preference!
If you make these Mini Boston Cream Pies, post them on Instagram and tag me (@baranbakery) and Athens Foods (@athens_foods) so we can admire your handiwork! Happy baking!
---
For more phyllo shells recipes, check out our Pinterest board or our recipe library. Be sure to sign up for our newsletter for monthly inspiration as well!
To view more of Bernice's content, visit her site and follow her on Instagram (@baranbakery).