While we patiently wait for it to actually feel like fall outside, we're trying to focus on silver linings – like how plums are still in season through October! This deliciously spiced cardamom black plum pie with a satisfying buttery phyllo crust, created by Ciarra from Peanut Butter Plus Chocolate, is a perfect example of a dish that transitions well from summer to fall. The cherry plum on top of the cake pie? It's easy and comes together in less than an hour – which means you can enjoy the fruits of your (low) labor quicker.
---
This lightly spiced cardamom black plum pie is wrapped in a light and flaky phyllo crust, uses minimal ingredients and comes together in under 1 hour. If you are looking for a sweet and easy dessert pairing, this cardamom spiced vegan plum pie using Athens® Phyllo Dough and some vanilla ice cream are a match made in heaven!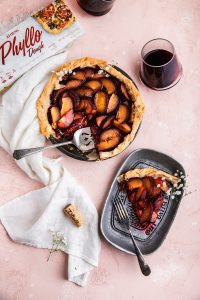 What You Need to Make This Vegan Plum Pie
Super easy. Super flaky. You are going to love it!
Black plums
Granulated sugar
Lemon juice
Cardamom
Cinnamon
Dairy-free butter
Ingredients
8 black plums, sliced and pits removed
1/4 cup granulated sugar
3 tbsp lemon juice
1/2 tsp cardamom
1/8 tsp cinnamon
6 sheets Athens® Phyllo Dough (9"x14"), thawed
1/4 cup dairy-free butter, melted
---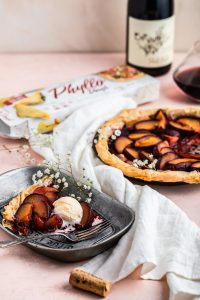 Instructions
Preheat the oven to 350°F and prepare a pie pan with non-stick cooking spray. In a large bowl, gently stir together the plums, sugar, lemon juice, cardamom and cinnamon and then set aside.
Gently open the phyllo dough package and lay one sheet into the pie pan leaving an overhang. Brush the sheet with butter until completely coated. Lay another sheet going in the opposite direction and brush with butter. Repeat this until you have used 6 sheets.
Arrange the plums into the pie crust. Do not pour the remaining juice in. Roll up the phyllo dough overhang to make the crust. Brush the crust with more butter if it starts to feel too dry. Bake the pie for 20 minutes. Remove and cover the pie with tin foil to keep the edges from burning. Return it to the oven for additional 15-20 minutes. The pie is done when the plum juices have released and you can hear them bubbling.
---
For more dessert recipes, check out our Pinterest board or our recipe library. Be sure to sign up for our newsletter for monthly inspiration as well!
To view more of Ciarra's content, visit her site and follow her on Instagram (@peanutbutterpluschocolate).