With spring celebrations just around the corner, we teamed up with Serena Wolf, national bestselling cookbook author and founder of the Domesticate Me Blog, to bring you the Easy Berry Tartlets recipe – perfect for all your entertaining needs! Read on for her guest post, which includes her inspiration for the tartlets and a step-by-step process. Happy Spring to all!
---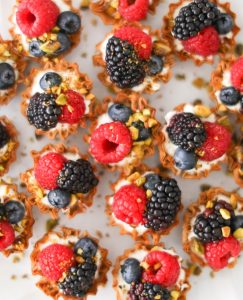 When I was a kid, my family always went to the Biltmore in Santa Barbara for Easter brunch. Before moving to Santa Barbara when I was nine, we used to drive up from LA for Easter, and I looked forward to that brunch every year like Logan looks forward to The Big Apple BBQ Fest. It's one of those crazy hotel buffets offering every type of food you could possibly imagine in a single room. Seafood tower! Made-to-order crepes and omelets! Prime rib! All the cheese! Sundae bar! You're not really sure how they all go together, and it's always possible you'll need to be rolled out of brunch on a stretcher, but the THRILL IS REAL.
My roommate and I are finally making it out to Santa Barbara for Easter this year, and I am very much hoping that we'll be making a cameo at the Biltmore. (Fun fact: We got married there.) I was describing it to Logan a few weeks ago (needless to say, he's down), and it was only then that I realized what I truly loved about this brunch as a child.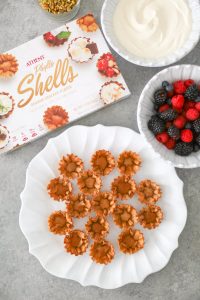 Given that 90s Serena was an insanely picky eater, none of the Biltmore's fancy brunch options actually appealed to me except for…dessert. While my parents and more adventurous older sister had plates of shrimp cocktail, sushi, local salads, and eggs Benedict, my equally picky little brother and I crushed a few bites of scrambled eggs to fulfill my mother's "protein before sugar" requirement before treating ourselves to roughly seven courses of dessert.
To this day, I still fantasize about those dessert tables. Not only were they laden with an endless variety of cakes, cookies, and tarts, but their offerings were also teeny-tiny and appealed to my finger food fetish. My favorite was always the mini fruit tarts, which is arguably an odd choice for a kid, but whatever. The combo of pastry, creamy filling, and fresh berries was my perfect bite, and I stand by fruit tart's timeless appeal.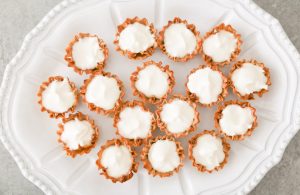 I recently made some Easy Berry Tartlets for a friend's birthday, and they were such a delightful crowd-pleaser, that I thought I'd share the recipe here should you wish to experience the bite-size magic. They're perfect for Easter brunching, showering of any kind, dinner parties, day parties, and pretty much any other spring/summer occasion you can think of. Trust me on this.
Let's break these down, shall we? First things first, I used Athens Phyllo Shells in the graham cracker flavor for these easy berry tartlets. I was first introduced to these pre-made shells at my friend Jodi's cooking class last year, and they've quickly become my favorite fancy dessert hack. I'm not a huge fan of baking, and these shells—which also come in an original flavor and chocolate flavor—are cute, crunchy, delicious, and unbelievably versatile. Each phyllo shell is filled with a light, sweet-tart filling made with just a few basic ingredients: Greek yogurt, mascarpone, honey, and lemon juice and zest. You'll want to eat the filling with a spoon, and you should. The tartlets are then topped with fresh berries and finished with a sprinkling of toasted pistachios, and the resulting treat is a bright burst of fresh and fruity goodness. It's delightfully addictive.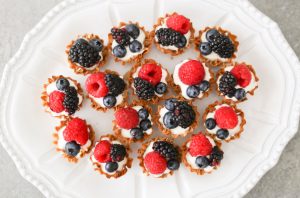 A couple quick notes and you do you options for these easy berry tartlets on this fine spring day. This recipe comes together from start to finish in roughly 30 minutes, but you can make the filling up to two days in advance and store it in the fridge. You'll likely have a tiny bit of leftover filling, which you can eat as a chef's snack or save for future desserts/breakfasts (try it on pancakes!) You can absolutely assemble the tartlets ahead of serving, but I urge you not to refrigerate them for more than a few hours—the filling will eventually make the phyllo shells soggy.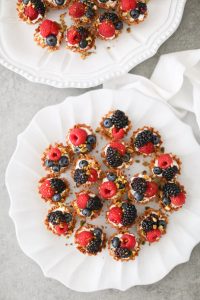 The recipe below makes my perfect lemony filling, but feel free to play with the amount of honey and lemon juice to strike your ideal sweet-tart balance. I used a trio of raspberries, blueberries and blackberries for my berry tartlets, but you can use a different combo, or stick with a single berry theme. You should also feel free to get some stone fruit, kiwi, or mango involved if you're so inclined. Finely chopped pistachios are my go-to finishing touch, but they're completely optional. I also love a dusting of powdered sugar, chopped fresh mint, lemon zest, or a touch of honey if you've got a super sweet tooth. You must always do you, friends.
---
Easy Berry Tartlets (Makes 30 bite-size tartlets)
3 tablespoons finely chopped raw, shelled pistachios (optional)
1 cup nonfat plain Greek yogurt (I like Fage for this)
½ cup mascarpone
1½ tablespoons honey
1 teaspoon lemon zest
1 tablespoon fresh lemon juice
30 Athens Phyllo Shells (I love the graham cracker flavor for this)
2 cups fresh berries of your choice (I used a mix of raspberries, blueberries and blackberries, but you do you)
---
Instructions
If you're into pistachios, I recommend toasting them to enhance the flavor. Heat a small skillet over medium heat. When hot, add the pistachios and cook for a minute or two, shaking the pan regularly, until the nuts are toasted and fragrant. Be careful not to burn them! Transfer to a small bowl to cool while you prep the filling.
Place the yogurt, mascarpone, honey, lemon zest and juice in the bowl of a food processor. Process until well combined and slightly fluffy. You can also combine the ingredients in a mixing bowl and use a hand mixer to whip the ingredients together, or simply whisk them by hand. The latter method requires some upper body strength, but it's doable.
Add about a teaspoon of filling to each phyllo shell. I use the base of a spoon or fork to do this (a spoon can be a little to wide for the shells), but you could also use a pastry bag to pipe filling into each shell.
Top the filling with a few berries (I recommend cutting blackberries in half and strawberries into quarters) and sprinkle with toasted pistachios if using.
Serve immediately or refrigerate for up to 3 hours. The filled phyllo shells tend to get soggy in the fridge after a few hours.