White goes with fish. Red goes with steak. And phyllo? Phyllo goes with absolutely everything. Go beyond the basics with wine pairings that make the most of our flakes. Let's get to it.
Easy Cheesy Hors D'oeuvres
If you've got a log of goat cheese and a box of shells, you've got the base of a delicious appetizer. Mix in a dollop of pesto or a spoonful of jam for a colorful and crisp bite. A chilled bottle of Sauvignon Blanc will round out the cheese's tangy flavor.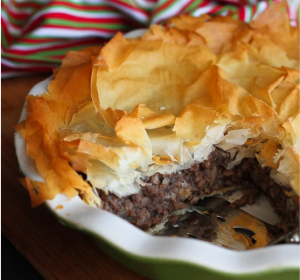 A Company-Worthy Combination
A little spicy. A little sweet. Unlike an overpowering Cabernet, the medium tannins of a Merlot go perfectly with our favorite savory pie from Quebec, known as a tourtière. Make this one for your next dinner party, and expect the compliments to roll in.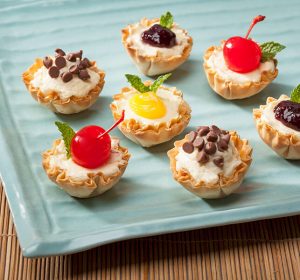 All About Dessert
As a general rule, your dessert wine should be sweeter than your actual dessert — this keeps the wine from tasting more bitter than it actually is. Riesling brings out the creamy, vanilla notes in our mini cheesecake cups. Don't have time to make dessert? Our pre-made baklava (available in the freezer aisle!) is a match for Moscato D'Asti, a honey and peach flavored wine you can serve straight from the fridge.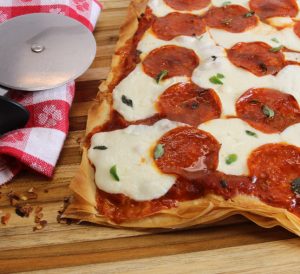 And a Word About Pizza
The Italians know a thing or two about a good pie … and a little vino to wash it down with. With phyllo as your crust, match your toppings to your favorite grape. White pizza loves a citrusy white (look for a Pinot Grigio or Chardonnay aged in stainless steel barrels), margherita complements a fruity Rosé, BBQ chicken loves a jammy Zin, and classic pepperoni pairs best with Chianti.
So, are you thirsty yet? Pick up a box of phyllo and a bottle of something special, and then get creative!  Check out our Pinterest page for even more ideas.