Sure, you can go the burger and hot dog route. But for a table that screams Fourth of July, make all your picnic favorites in a color scheme Lady Liberty would approve of. We're coming at you with recipes that perfectly represent the red, white and blue.
A More Patriotic Pizza
Few things taste more like summer than a margherita pizza. Even better, this take from Cooking Light won't weigh you down with extra calories. If you can, search your local farmer's market for purple basil — its blueish hue will add another layer of festive color.
Star-Spangled Sides
Go salty-sweet with watermelon feta phyllo cups, or go hearty and bold with a mini bacon cheeseburger. White cheddar (or blue cheese!) and plenty ketchup will amp up the appeal. Feeling crafty? Cut actual stars from slices of mozzarella to create these caprese cups.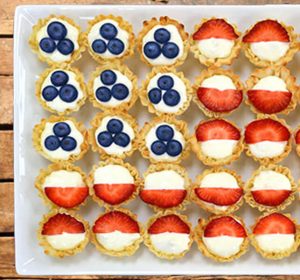 Berry Delish Dessert Options
Make your Phyllo Shell game strong. Any combination of shell, creamy base and berry topper will make your taste buds sing "God Bless the U.S.A." Cookbook author Serena Wolf goes for graham shells and yogurt for her easy berry tartlets, but you can also get boozy with spiked cream, or go all in and create a flag of blueberries, sliced strawberries and cream cheese.
Add A Bit of Sparkle
Club soda and pureed watermelon combine to create a summer refresher you can sip on all day long. Mix in a little vodka or tequila to make this punch really pop.
For even more red, white and blue recipes, check out our Pinterest board. And whatever you make, make it with phyllo. These fireworks-worthy flavors are sure to enhance your holiday!