With summer in full swing, we partnered up again with Serena Wolf, national bestselling cookbook author and founder of Domesticate Me blog, to bring you a simple, savory summer tart – an all-time favorite recipe of hers for easy entertaining! Keep reading for her guest post, which includes her cooking tips and step-by-step instructions.
---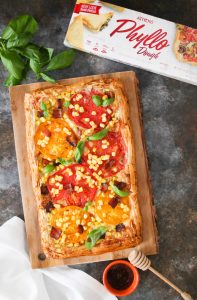 Hi, friends!
I'm heading out to visit my in-laws in Idaho tomorrow for a few days, and I'm straight-up giddy with anticipatory excitement. It's beautifully peaceful out there, and thanks to #fitnessjourney, I now relish the long hikes and bike rides that terrified/nearly killed me in years past. Plus, I successfully smooth talked my way out of fishing with my roommate (do not want) and surreptitiously replaced myself with his brother, so this will undoubtedly be our best Western sojourn yet!
Given it's summer and many folks are taking weekend trips, it felt timely to share this delightful Summer Tart with Tomatoes, Corn, and Bacon. It's one of my all-time favorite recipes for easy entertaining, and I hope you'll consider crushing it with your favorite people this week and all season long.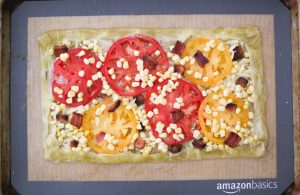 Here's the quick breakdown of this sexy summer tart: Sheets of Athens Foods® Phyllo Dough are brushed with garlic-infused olive oil, layered on top of one another, and then topped with nutty Gruyère, juicy heirloom tomato slices, sweet corn, and just enough crumbled bacon for savory flair. The tart is baked until the phyllo becomes perfectly crisp and flaky, the cheese is melted, and the tomatoes and corn are just beginning to caramelize before being showered with fresh basil and drizzled with hot honey. (Deep breath.) Each addictively crunchy bite is a smorgasbord of summer flavors, and you deserve to experience the magic as soon (and as often) as humanly possible. Trust.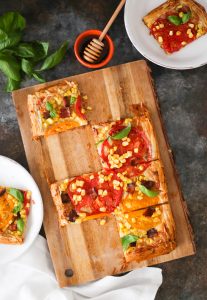 I like to slice this tart into squares and serve it as an appetizer (the recipe is easily multiplied if you want to make more than one tart), but it's also great served as a meal with a big old green salad. Keep that in mind for fancy weeknight dinners, people.
If this summer tart seems intimidatingly impressive, thank you! But this bad baker is here to assure you that it's 100% idiot-proof. Athens Phyllo Dough is super versatile and surprisingly easy to work with (even for the most culinary-challenged folks). To create a tart base, you simply stack about 8 sheets of the phyllo dough, brushing each one with a little oil before layering the next, and then add the toppings. Done and done. The process of stacking and brushing will probably run you about 10 minutes, but it's pretty painless (and somewhat meditative). And there's no need to panic if your phyllo stack is a little off-kilter or you tear a few sheets in the process—the layers are very forgiving. Plus, the tart is meant to look "rustic."
You know it thrills me when you get creative with my recipes, and this summer tart is ripe for personalization. I trust you have plenty of ideas for riffing on this seasonal masterpiece but to be on the safe side, I'm gonna throw out a few ways for you to do you: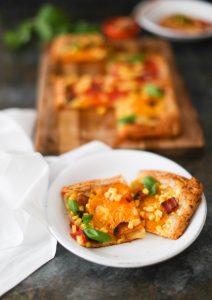 Choose your favorite cheese. I love the slightly nutty sweetness of Gruyère, but Fontina, Mozzarella, an Italian cheese blend, Parmesan, or goat cheese would all be fabulous. I used a conservative amount (#nakedseason), but you can always be slightly more heavy-handed if you wish. You can also ditch the cheese to keep this tart dairy-free. It has plenty of flavor without it.
I love taking advantage of summer's heirloom tomatoes for this tart, but feel free to use any tomato(es) you like. (I sometimes use halved cherry tomatoes, which works beautifully. Just place them cut side up on the tart.) Not into tomatoes? Sub sliced peaches or nectarines—they're outrageously delicious.
Crispy bacon tends to be a crowd-pleaser, but prosciutto, bresaola, soppressata, or sausage are delightful alternatives. Or go meatless. I dare you.
Play with herbs! In addition to basil, fresh thyme, chives, tarragon, or parsley are all great additions to the summer flavor party. You can also mix some finely chopped herbs into the oil mixture used to brush the phyllo if you're feeling wild.
---
Summer Tart with Tomatoes, Corn, and Bacon (serves 8 as an appetizer; 2-4 as an entrée depending on appetites)
1/3 cup extra-virgin olive oil (melted butter or ghee is also great), plus extra as needed
1 large garlic clove, grated or finely minced
Pinch of salt
Freshly ground black pepper
8 sheets Athens® Phyllo Dough (9″ x 14″), thawed
½ cup grated Gruyère cheese
1 medium heirloom tomato (or tomato of your choice), sliced into thin rounds
½ cup sweet corn kernels (roughly ½ ear of sweet corn)
2 slices cooked bacon, crumbled
For serving:
Fresh basil leaves
Hot honey (I like Red Clay brand) or regular honey
---
Instructions:
Bring the phyllo dough to room temperature. Unroll and cover phyllo sheets with plastic wrap and then a slightly damp towel to prevent drying out.
Preheat the oven to 375°F. Line a baking sheet with parchment, foil, or a silicone baking mat. If using foil, spray with nonstick cooking spray. Add the olive oil and garlic to a small bowl. Season with a generous pinch of salt and pepper and whisk to combine.
Place one sheet of phyllo on the prepared baking sheet. Lightly brush with the olive oil mixture. Layer with another sheet of phyllo, brush with oil, and repeat with the remaining sheets of phyllo. While you're working with the phyllo, re-cover the dough every time you remove a sheet to prevent it from drying out.
Sprinkle the cheese on top of the stacked phyllo, leaving a roughly 1-inch border around the tart. Top with tomato slices, corn, and bacon. Fold the dough in on itself on all four sides of the tart to create a border (you can skip this step if you like).
Transfer the tart to the oven and bake for 20-25 minutes until the phyllo is golden brown. Top the tart with basil and drizzle with hot honey. Slice and serve!
---
For more tart recipes, check out our Pinterest board or our recipe library. Be sure to sign up for our newsletter for monthly inspiration as well!