Summertime has got us feeling peachy! To take advantage of peach season, we teamed up with Ciarra from Peanut Butter Plus Chocolate to create this amazing (and healthy!) dairy-free peach galette. It's quick, easy and a great sweet treat for those long, hot summer days. Read on for Ciarra's guest post, where she shares how to make it step-by-step and helpful tips!
---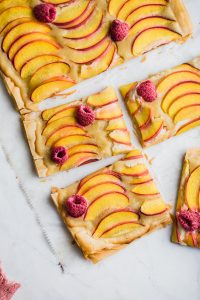 One of my favorite dessert recipes is this dairy-free peach galette. It's a quick and easy recipe that's great for summer brunches. The perfect flaky phyllo dough crust and almond cream filling makes this healthy peach galette a new favorite. Serve with ice cream for an even more amazing treat!
If you are looking for a sweet and easy brunch recipe to add to your repertoire, look no further because Athens® Phyllo Dough will make your holiday prep a breeze.
---
What You Need to Make This Peach Galette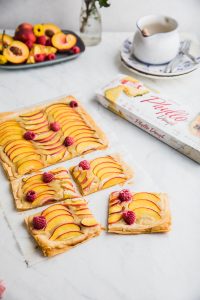 This galette is simpler to make than it looks. Mix together your filling and set aside while you prepare your dough. Brushing a thin layer of melted butter between your Athens® Phyllo Dough sheets will give your galette that perfect buttery flakiness! Next, top with your prepared filling and finish with peach slices and raspberries. Bake and devour!
dairy free butter
peaches, thinly slices
raspberries
almond flour
egg
Truvia or granulated sweetener
coconut milk
vanilla extract
salt
---

Ingredients
1 package Athens Phyllo Dough 20 sheets
1/2 cup dairy free butter melted
4 peaches thinly sliced
1/2 cup raspberries
Almond cream filling
1 1/4 cups almond flour
1/3 cup Truvia or granulated sweetener
1 eggs large
1/3 cup coconut cream
1 tsp vanilla extract
pinch sea salt

---
Instructions
In a bowl, mix together the egg, vanilla and coconut cream. In another bowl, stir together the almond flour, Truvia or sweetener and salt. Add the dry mixture to the wet and stir until combined. Set aside.
Preheat oven to 350°F and prepare a baking sheet with parchment paper. Unroll and cover phyllo sheets with plastic wrap and then a slightly damp towel to prevent drying out. Remove 1 sheet of phyllo dough and place it on the baking sheet. Brush the side facing up with melted butter. Add another sheet and repeat until you have used the entire package. Spoon the mixture over the top of the pastry sheets leaving about 1/2 inch around the sides. Arrange the sliced peaches and top with raspberries. Bake for 30-40 minutes or until golden brown.
---
For more galette recipes, check out our Pinterest board or our recipe library. Be sure to sign up for our newsletter for monthly inspiration as well!
To view more of Ciarra's content, visit her site and follow her on Instagram (@peanutbutterpluschocolate).