Headed to the Big Apple? You've gotta check out the best phyllo dishes in the city. From baklava reimagined every which way to creamy custards, spanakopita, and flaking great takes on classics like spanakopita and börek, there's no shortage of delicious dough. Here are nine dishes to add to your itinerary.
---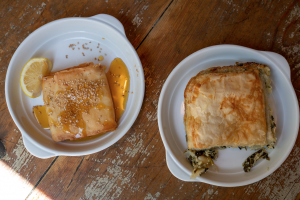 Kiki's, 130 Division St.
Rustic simplicity. Exceptional food. Nestled on the edge of Chinatown and the Lower East Side, Kiki's is home to pure ingredients and dishes oozing with flavor. The Spanakopita is aces, but don't sleep on the Saganaki (melty cheese is wrapped in phyllo dough, then covered in honey and hit with a squeeze of lemony brightness). Go on an afternoon when you can take advantage of the breeze that wafts through the restaurant on beautiful days.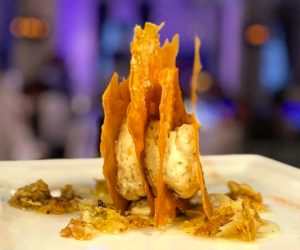 Limani, 45 Rockefeller Plaza
Step into Limani's sunny, blue and white space and you'll forget you're in the middle of the concrete jungle. Discover what modern Greek food is all about with the Cracked "Spasmeno" Baklava. This towering dessert of caramelized phyllo and pistachio praline mousse is deconstructed tableside. The result is creamy, decadent, and crazy fun to eat.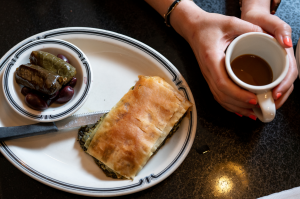 Waverly Diner, 385 6th Ave.
If you want that quintessential NY diner feel, this is your spot. Wood paneling, booth seating, an open kitchen and extensive menu, everything about this place is old-school perfection. Skip the eggs and go straight for the Spanakopita. Generous spinach, spices and feta are wrapped in three perfect layers of phyllo – it's straight-up Greek comfort food that definitely works with a mug of coffee.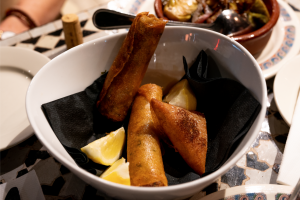 Nomad, 78 Second Ave.
At the edge of the East Village, this Moroccan restaurant and bar delivers authentic Mediterranean and North African foods. And when it comes to phyllo, they don't disappoint. For a truly crispy crunch and variety of filling flavors (chicken, beef and fish), order the Trio Bourek.  Follow it up with exotic Chicken Pastilla. Cut through a cinnamon-sugar dusted crust to reveal the stewed chicken, almonds and spices inside. Sounds weird. Tastes amazing. Trust us and try it.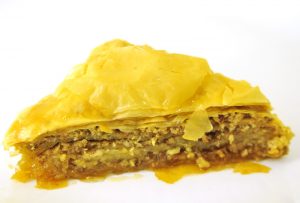 Artopolis Bakery, 23-18 31st St.
For a truly sweet treat, take the train out to Astoria, the "Little Greece" of NYC. Here, you can become a baklava expert with traditional and modern spins on the dessert all lined up in a row. Enjoy your sweet selection with some dark, rich coffee, or take a piece of this classic Greek bakery with you to go.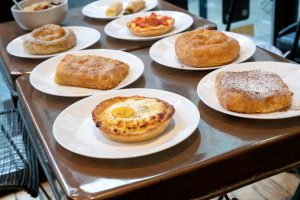 Pi Bakerie, 512 Broome St.
Phyllo goldmine, this place. From traditional Greek favorites like Tiropitaki and Chicken Pi to breakfast-of-champion worthy dishes like their Mikonos Pi and Sour Cherry Yogurt, this little spot has it all. The bakery display case is a phyllo lover's dream … but don't stop there. You'll also find drawers and drawers of sweet Greek treats like assorted baklava and kataifi. Whatever Mediterranean flavors you're in the mood for, it's a safe bet you can satisfy your craving here.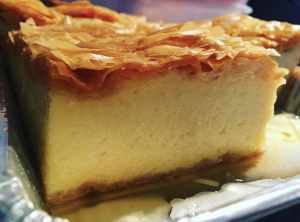 Meze, 6601 13th Ave., Brooklyn
So, real talk: Brooklyn is kinda lacking in truly great Greek restaurants. An exception? Meze. Nestled in Dyker Heights, Meze offers traditional Greek eats in a cozy atmosphere. While the Spanakopita, Tyropita and Baklava all deserve praise, the real showstopper is the Galaktoboureko. This semolina custard wrapped in phyllo dough and served warm is everything.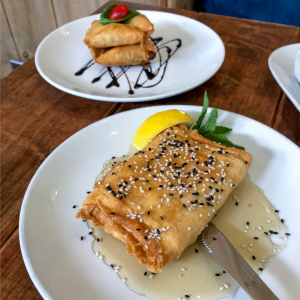 Village Taverna Greek Grill, 81 University Place
Centrally located near Union Square, this corner hotspot caters to all appetites. With an extensive menu of Greek classics plus a number of hearty entrees cooked in clay pots, there's something for everyone. Pro tip? Save room for dessert, and order the Ekmek, a Chantilly cream topped custard sprinkled with sliced almonds and shredded phyllo pastry.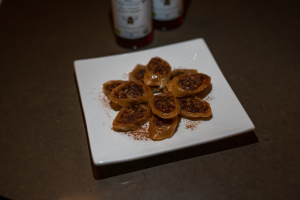 Loi Estiatorio, 132 W. 58th St.
According to chef Maria Loi, "In Greece, you trust the chef to give you the best." That's exactly what you can expect at her namesake restaurant. Located on 58th Street just a block away from New York's iconic Columbus Circle, Loi's menu features fresh, healthy ingredients in a setting that takes its cues from Loi's home in the historical coastal town of Nafpaktos. Selecting just one phyllo dish is too difficult at this Greek staple. We suggest opting for a dessert sampler with Baklava, Phyllo Semolina Custard, and Shredded Phyllo Kataifi. To-go boxes encouraged.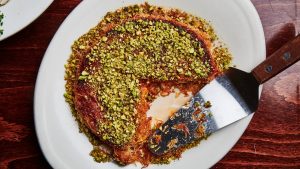 Tanoreen, 7523 3rd Ave., Brooklyn
Located in Bay Ridge, Brooklyn, Tanoreen is a destination in and of itself. Manhattanites will happily endure the long subway ride for a night out at Tanoreen with its cozy, neighborhood vibe and versatile menu that offers something for everyone. The dish of choice is hands down the knafeh, a rosewater-scented cheese and phyllo pastry for dessert. Individuals have traveled to great lengths to indulge on the knafeh. In fact, a couple flew in from Minnesota just to have it!
---
In the city known for its vibrant culinary scene and eclectic neighborhoods, you can find phyllo in kitchens from Chinatown to the Upper West Side, Times Square to Queens and Brooklyn. Check out these incredible restaurants, and then tell us your favorites!