The holiday season may look different this year, but that doesn't mean your menu should be any less festive. Your micro gathering deserves a major wow factor, and individually wrapped Beef Wellingtons are just the thing to make the holidays grand. Here are a few tips to make sure your Wellington comes out well. 
---
Tip #1: Go for the good stuff.
For most recipes, you can get away with swapping out filet mignon for a lesser cut of beef. This is the rare occasion where you want to splurge for the real deal. Other cuts of beef will have a much higher fat content than a lean filet, which could result in a soggy finished product.
Tip #2: Don't overcook the filet.
Remember, your filet will continue to cook in the oven. Your initial sear on the stove is just to create an amazing pepper crust and impart flavor.
Tip #3: Really drain the duxelles.
Duxelles is the traditional creamy mushroom mixture that complements beef wellington's crispy exterior. It's easy to make — just sauté your shallots, mushrooms and thyme, and then add your sour cream — but it can create a little extra moisture. Before schmearing it on top of your filet, tip any excess liquid out of your skillet and into the sink. Again, we want our dough to remain crisp, crisp, crisp … and that means no unnecessary moisture.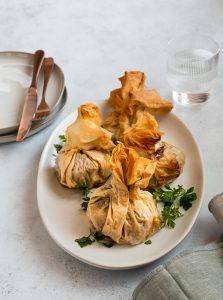 Tip #4: Patch it up (no one will know!).
Phyllo is a delicate dough … that's what makes it so delicious. If a sheet tears, it's totally fine! Just layer another sheet over the tear and keep going.
Tip #5: Keep the rest of dinner easy. 
Anytime you're making something that takes a little bit of effort (it's worth it, we promise!), keep the rest of your menu as simple as possible. Beef Wellington pairs beautifully with a citrus-dressed salad for a stunning holiday lunch, or a tray of roast vegetables.
Drizzle fingerling potatoes and asparagus with olive oil, salt, and pepper, and then you can roast your veggies while you've got the oven turned on.
---
Individual Beef Wellington Recipe

Ingredients (serves 4)
4 filet Mignon* (aka. beef tenderloin filets), each 1 1/2" –  2" thick
salt and pepper, to taste
16 sheets Athens® Phyllo Dough (9″x 14″), thawed
1/2 cup butter, divided
1 egg, beaten well
Duxelles:
12 ounces mushrooms (button, shitake or blend of both)
1 medium onion or 4 shallots, finely chopped
2 teaspoons fresh thyme leaves
1 tablespoon fresh lemon juice
3 tablespoons fresh parsley, chopped
2 tablespoons sour cream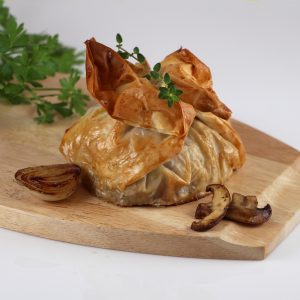 Directions
Thaw one roll of phyllo, following thawing instructions on package. Preheat oven to 375°F.
Sauté filets in 2 tablespoons butter in very hot skillet, approximately 2-3 minutes on each side, or until seared. Season liberally with salt and pepper. Set aside and let cool completely. May be prepared up to this point in advance.
Prepare Duxelles, which also can be done in advance. Clean and finely chop (or grate) mushrooms. Wrap in towel and squeeze out excess moisture.
Heat 2 tablespoons butter and lightly brown chopped onions or shallots. Add mushrooms, salt, pepper, thyme and lemon juice stirring over high heat until all moisture has completely evaporated. Stir in parsley and sour cream. Set aside and let cool completely.
Unroll and cover phyllo sheets with plastic wrap, then a slightly damp towel to prevent drying out. Place one sheet of phyllo on work surface and brush lightly with melted butter. Place second sheet directly over first and brush with melted butter. Repeat with two more sheets yielding a stack of four. Repeat procedure three more times so you have four stacks of four sheets.
Place one filet in the middle of dough. Drain any accumulated liquid from Duxelles. Spread 1/4 of the Duxelles over the top of the filet. (If the filet is not perfectly round, place it lengthwise in the center of dough.) Fold in long sides of dough up over filling. Bring remaining sides up to meet, pinch together while making sure that filling is completely enclosed, and dough is fluffed at top like a beggar's purse. Repeat for every piece of beef.
Lightly spray baking sheet with cooking spray. Place each Beef Wellington at least 1″ apart on baking sheet. Brush with well beaten egg. Bake in preheated 375°F oven 15 to 22 minutes or until golden brown.
---
If you make our phyllo-wrapped Beef Wellington, take a pic and share it on social! Then tag us so we can see your amazing results. And for even more holiday recipes, check out our Pinterest page.