The holidays are fast approaching, and we're here to make sure Santa gets his phyllo fix. Cookies and milk are great, but a big piece of nutty baklava and a mug of hot cocoa are even better. We'll sustain him throughout his journey with a tasty snack from the North Pole Phyllo Café.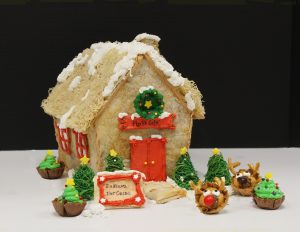 Just picture it. Dulce de leche Rudolph playing reindeer games with his friends outside among the phyllo shell peppermint Christmas trees and kataifi evergreens. The café, built from crispy phyllo layered with cinnamon sugar and nutmeg is topped by a kataifi (shredded phyllo) thatched roof with a chimney of pistachio, chocolate, orange baklava roll.
To make this scenario come to life, keep reading — we've got all the details on how to create a crispy, ultra-cute café of your very own.
---
Make the Structure
Start by creating strong walls and a sturdy roof. Whisk 2 egg whites, 3 tablespoons water, and ¼ cup canola oil together. Then, layer stacks of nine sheets of phyllo "gluing" them together by brushing each layer lightly with egg mixture and then sprinkling each layer with a blend of cinnamon, sugar and nutmeg. Don't brush the top layer. Our café uses four of these stacks, from one box of Athens Phyllo Dough (9"x 14").
Cut It Out & Bake It Off
Once you've created your stacks, lay templates for the walls (sides and fronts) and the roof on top of the phyllo and cut around them with a sharp knife. We used a template with walls 8 ½" long x 7" high and 6" wide – there are tons of easy-to-find options online. You can pick one of these or design your own to make your unique phyllo house.
Bake your café components at 375°F on parchment-lined baking sheets for 15 minutes. To keep the phyllo layers flat and tightly compressed, cover your dough with a second baking sheet.
Thatch the Roof
For the thatched roof, pull apart sections of kataifi, dip them quickly in melted butter, squeeze off the excess, and then sprinkle liberally with cinnamon, sugar and nutmeg. Form your kataifi on a baking sheet into rectangles ¼" high and in the shape and size of the roof templates. Baked at 375°F until golden.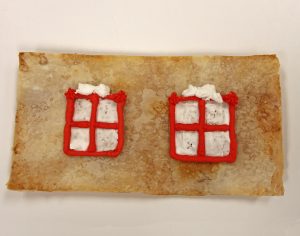 Decorate, Decorate, Decorate
Once all your pieces are baked and cooled, it's time to decorate. Use royal icing to create windows and doors. Of course, the café needs a royal icing painted phyllo shell wreath over the door. Let your walls set and icing hardens for 2–3 hours.
Assemble Your Café
Pipe a foundation line of thick royal icing onto a cake board and, one by one, pipe icing on the wall edges. Place the walls down into the foundation and against each other.
Once all the walls are in position, make a belt from a narrow strip of plastic wrap and circle it around the structure to help keep it together while the icing hardens. In the meantime, frost the roof pieces with royal icing and lay the kataifi roof pieces on top, pressing gently. Setting the roof can be tricky, so here's a tip: use your decorating supplies to help prop the roof panels up and prevent them from sliding down the walls. Let everything dry.
Add the Finishing Touches
To make the perfect chimney, trim the bottom edge of a baklava roll on a slant and adhere it to the roof with more icing. Pipe white royal icing "snow" on the roof peak for extra stability.
With extra phyllo bits and pieces, create a walkway and café sign. For trees, dip the kataifi roof trimmings in green food coloring, wrap around metal icing tips, and bake for 15 minutes. Once cool, you can remove the tips and decorate.
With phyllo dough, phyllo shells and kataifi, it's easy to unleash your inner artist. We can't wait to see your phyllo creations — tag us on Instagram (@athens_foods) or Facebook (@athensfoods) when you whip up your own phyllo café. And follow us on Pinterest for even more holiday treat ideas.
---
And we heard him exclaim as he drove out of sight, "Merry Christmas to all and to all phyllo delights!"