Description
Crispy tofu, lettuce, cherry tomatoes, avocado and pepitas are a flavorful filling for flaky lime cilantro phyllo shells. Creamy chipotle sauce adds a little heat to these vegan friendly tacos!
---
Ingredients
16 sheets Athens® Phyllo Dough (9″ x 14″), thawed
⅓ cup vegan mayonnaise, such as Hellmann's Vegan Dressing & Spread
1- 2 canned chipotles in adobo sauce (depending on your heat preference)
1 lime, zested and juiced, divided
¼ cup + 1 tablespoon cilantro, chopped, divided
1 package (12 ounces) extra-firm tofu, drained
3 tablespoons corn starch
1 teaspoon chili powder
½ teaspoon turmeric
½ teaspoon onion powder
1 ¼ teaspoons salt, divided
¼ teaspoon black pepper
½ cup olive oil, divided
1 cup romaine lettuce, chopped
2 green onions, white and green parts, sliced small
¾ cup cherry tomatoes, quartered
¾ cup avocado, ¼" diced
⅓ cup pepitas, roasted
---
Directions
Thaw 1 roll of phyllo, following thawing instructions on package. Preheat oven to 350ºF.
Combine mayonnaise, chipotle(s), lime juice and 1 tablespoon cilantro in a blender. Blend for 2-3 minutes or until smooth. Chill.
Drain tofu. Cut tofu into ½" cubes and place close together, in one layer, on a clean dish towel. Lay another dish towel on top. Place a heavy cutting board and heavy pot on top (The idea is to press the liquid out).  Let sit for 20 minutes or until liquid has been absorbed by towels. In a large bowl gently toss tofu with corn starch, chili powder, turmeric, onion powder, 1 teaspoon salt and pepper. Heat 3 tablespoons olive oil in a large sauté pan over medium high heat. Add tofu to hot oil, in one layer. Cook 3-4 minutes on each side or until golden. Remove from heat and drain.
In a small bowl combine ¼ cup cilantro, lime zest and ¼ teaspoon salt.
Unroll and cover phyllo with plastic wrap and then a slightly damp towel to prevent drying out. Place one sheet of phyllo on work surface. Lightly brush with olive oil and sprinkle with a pinch of the cilantro lime salt mixture. Layer and repeat with 7 more sheets, but do not brush oil or sprinkle top layer. Fold stack in half lengthwise.  Use a 6" bowl, such as a cereal bowl, as a template. Place 2 bowls side by side on top of the folded phyllo, placing rim of each bowl on long edge of phyllo with opposite edge of bowls approximately 1 ½ – 2" below the fold.  Using a sharp knife, cut from the fold up and around the bowl. Remove bowls and unfold phyllo giving you 2 ovals, each approximately 8" long x 6" wide. Repeat process with remaining 8 sheets of phyllo, yielding a total of 4 ovals. Lightly brush both sides of each oval with olive oil.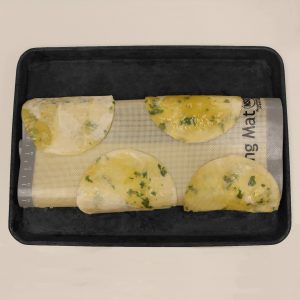 Place ovals on a baking sheet 2 x 2. Loosely fold under short ends of a Silpat Baking Mat. Lay Silpat on top of ovals and fold half of each oval up over Silpat. See photo. Lay another baking tray on top. Bake 15-20 minutes. Remove from oven and allow to cool before removing Silpat.
Fill each phyllo taco shell with lettuce, tomatoes, green onions and tofu. Sprinkle with avocado, pepitas and drizzle with chipotle sauce.  Serve with additional sauce.
---
Nutrition
Serving size: 1 taco (55g), Amount per serving: Calories 120, Total Fat – 9g, Saturated fat – 1g, Trans Fat – 0g, Cholesterol – 0mg, Sodium – 220 mg, Dietary Fiber – 1g, Total Carbohydrate – 9g Sugars – 1g, Protein – 3g, Vitamin D – 0%, Calcium 2%, Iron 6%, Potassium – 2%
---
Tips
Taco shells can be made up to 3 days in advance and stored in air tight containers at room temperature.
If you do not have a Silpat, make a form by folding aluminum foil several times loosely and lay phyllo around it. Bake as above.
---