Description
Lean lamb and grilled vegetables find a home between layers of flaky phyllo in these delicious Napoleons.
---
Ingredients
1/4 cup plus 2 tablespoons olive oil
3 tablespoons lemon juice
1/4 cup of fresh mint (or oregano), finely chopped
1/4 teaspoon garlic salt
1/4 teaspoon freshly ground black pepper
1 sweet red onion, 1-inch wedges
1 large or 2 medium green zucchini, 1-inch rounds
12 cherry tomatoes
1 pound lean lamb, 1 inch cubes
6 metal or soaked wooden skewers
2 tablespoons unsalted butter
18 sheets Athens® Phyllo Dough (9″x14″), thawed
1 cup white or brown rice, cooked
---
Directions
Thaw one roll of phyllo dough, following thawing instructions on package. Preheat oven to 350°F. Unroll and cover phyllo with plastic wrap and then a slightly damp towel to prevent drying out. In a small saucepan, melt butter with 2 tablespoons olive oil over medium heat. Layer 6 phyllo sheets, brushing each with melted butter/oil. Cut phyllo lengthwise into 2 equal strips and then cut 3 diamonds from each strip. There will be some extra phyllo pieces on the edges. Repeat process 2 more times for a total of 18 diamonds of layered phyllo. (This includes two extra diamonds.)
Place phyllo diamonds on greased baking sheet and cover with parchment paper. Place another baking sheet on top. This will prevent the phyllo from curling up. Bake in preheated 350°F oven for 5 to 7 minutes or until golden brown. Cool.
In a small bowl, combine 1/4 cup olive oil, lemon juice, mint, garlic salt and pepper.
If grilling, on each skewer, alternately thread the vegetables and lamb. Brush them generously with marinade, making sure all sides are coated. Grill kabobs, brushing them with marinade and turning frequently until cooked through, about 15 minutes. Remove lamb and vegetables from skewers and dice into 1/4-inch cubes.
If broiling, place lamb and vegetables in a medium bowl. Pour in marinade and gently mix to coat all pieces well. Place on a baking sheet and broil for 10-12 minutes. Remove and dice meat and vegetables into 1/4″ cubes.
Assemble each Napoleon by topping a phyllo diamond with about 2 tablespoons rice. Layer a second phyllo diamond and top with 2 tablespoons lamb. Layer a third phyllo diamond and top with about 2 tablespoons vegetables. Top with a fourth phyllo diamond. Repeat process 3 times to make 4 napoleons. Serve immediately.
---
Nutrition
Serving size: 1 Napoleon (334g), Amount per serving: Calories 570, Total Fat – 31g, Saturated fat – 9g, Trans Fat – 0g, Cholesterol – 90mg, Sodium – 330 mg, Dietary Fiber – 3g, Total Carbohydrate –43g Total Sugars – 5g, Protein –29g, Vitamin D – 0%, Calcium 4%, Iron 20%, Potassium 15%
---
Tips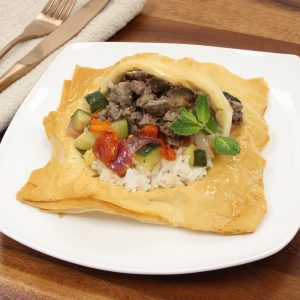 Make an elegant Phyllo Basket alternative for this delicious recipe.
Follow instructions above for layering 6 sheets of phyllo dough. Cut stack in half horizontally and trim to make two 6-7" squares. Retain trim. Place each square into a 4" tart pan. Carefully push phyllo into pan, leaving the points sticking out. Gently place a small ball of aluminum foil, about 2" diameter, in center. Fold or roll retained trim into a "handle" approximately 6 ½" long and ½" wide. Position handle over foil and touching the phyllo in base of tart pan. (The foil ball will help phyllo in base to lay flat and give shape to handle.)
Repeat process with remaining phyllo to make 6 baskets. Place tart pans on a baking sheet and bake in preheated 350°F oven for 8-10 minutes or until golden brown.
Cool and gently remove baskets from tart pans. Carefully remove foil ball. Fill each basket with prepared rice, vegetables and lamb.
---