Description
Deck the dinner table with bows of spanakopita! This beautiful (and delicious) spinach & kale spanakopita wreath is sure to impress and makes the perfect holiday main course.
---
Ingredients
16 sheets Athens® Phyllo Dough (9×14"), thawed
1/2 stick unsalted butter, melted
1/3 cup olive oil
2 green onions, chopped
1 leek, white & light green parts, chopped
1/4 cup fresh dill, chopped
5 cups baby spinach
4 cups baby kale
2 cloves garlic, minced
2 large eggs, beaten
1 teaspoon lemon juice
8 ounces Feta cheese, crumbled (+ extra for garnish)
1/2 cup cottage cheese
1 3/4 teaspoon sea salt, divided
3/4 teaspoon black pepper
1 tablespoon sesame seeds
20 cranberries, fresh or frozen, not dried
---
Directions
Thaw one roll of phyllo, following thawing instructions on the package. Preheat oven to 375ºF.
In a small bowl combine melted butter and olive oil.  Heat 2 tablespoons of this butter mixture in a large sauté pan. Add green onions, leek and dill cooking over medium high heat 4-5 minutes or until soft and almost transparent. Add spinach and kale a little at a time as it cooks down, approximately 3 minutes. Mix in garlic and cook for an additional minute. Remove from heat and drain any excess liquid. Set aside to cool.
In a large bowl, mix together eggs, lemon juice, Feta, cottage cheese, 1 teaspoon sea salt and pepper. Fold in spinach mixture.
Unroll and cover phyllo sheets with plastic wrap, then a slightly damp towel to prevent drying out. Brush inside of tube pan with butter mixture. Arrange/layer 10 phyllo sheets lengthwise in pan, pressing down and lightly brushing each with butter mixture. The phyllo should cover the bottom evenly and approximately 3 1/2″ up the sides and center tube. Carefully spread fillin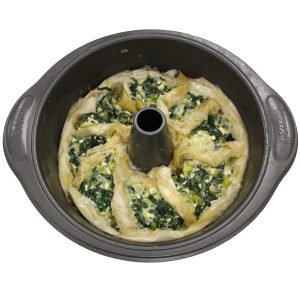 g in phyllo lined pan. Roll phyllo around perimeter and center tube down to touch the filling as in a pie crust and brush with butter mixture. For the wreath's ribbons: Lay one sheet of phyllo on work surface. Brush lightly with butter mixture and layer with a second sheet. Brush top half of phyllo and fold bottom up to create a rectangle 7″ x 9″.  Using a sharp knife or pizza cutter, cut rectangle into 4 strips each approximately 2 1/4″ x 7″ (this does not need to be exact). Cut each strip into 3 1/2″ lengths. Twist each gently, lay on top of filling, from edge of pan to center, space more or less evenly, butter and tuck in ends.  Bake 35 minutes or until phyllo becomes golden. Remove from oven and place cranberries and small clumps of Feta "snow" on the wreath. Return to the oven for 5 minutes. Allow to cool briefly. When pan is cool enough to handle, remove sides of pan and then using  2 spatulas (one on either side of center tube) lift wreath off of pan and onto serving platter.
While wreath is baking, make the bow.
For the Bow: Lay one sheet of phyllo on work surface with short side closest to you lightly brush with butter mixture and layer with another sheet of phyllo . Brush top half lightly with butter mixture. Fold up bottom half onto top creating a rectangle of 7″ x 9″. Trim off and set aside a  2″ strip creating a 7″ x 7″ square and a 2″ x 7″ strip. The strip will become the center of bow. Pinch  the square together in center. wrap 4″ of the 2″ strip around the pinched center. Discard remainder of 2″ strip. Brush bow with butter mixture, sprinkle with sesame seeds, pinch of sea salt and place on baking tray. Place one sheet of phyllo on work surface. lightly brush with butter mixture. Fold in thirds lengthwise to form a strip 3″ x 14″. Cut strip in half horizontally into two 3″ x 7″ strips. These will become the tails of the bow. Trim each at an angle and to desired length as in the photo. Brush bow with butter mixture and sprinkle with sesame seeds,  pinch of sea salt and place on baking tray with bow. bake 5-10 minutes or until golden. Arrange on wreath tucking tails of bow between wreath and bow.
---
Nutrition
Serving size: 1 triangle (139g), Amount per serving: Calories 290, Total Fat – 21g, Saturated fat – 9g, Trans Fat – 0g, Cholesterol – 80mg, Sodium – 830mg, Dietary Fiber – 2g, Total Carbohydrate – 16g, Total Sugars – 2g, Protein –10g, Vitamin D – 0%, Calcium 20%, Iron 10%, Potassium 2%
---