Move aside, traditional apple pie. Introducing Apple Pie Baklava, your soon-to-be go-to Thanksgiving dessert, created by our friend Bernice from Baran Bakery blog. It's got the classic flavor of apple pie but with the added deliciousness of chopped nuts and apple flavored syrup, all in between layers of flaky phyllo dough. Read on for Bernice's guest post where she shares tips and a step-by-step guide.
---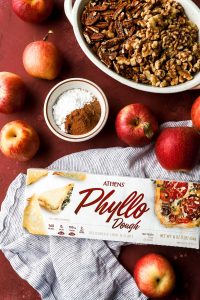 Last Easter, I switched things up by making a Carrot Cake Baklava. I loved it and I think you all did too! With Thanksgiving around the corner, I couldn't help but see an opportunity to experiment with baklava again. I decided to take the flavors of traditional apple pie and incorporate them into baklava using Athens® Phyllo Dough.
How to Make Apple Pie Baklava
The most important ingredient for a perfect Apple Pie Baklava is phyllo dough. I can always trust Athens Phyllo Dough sheets to deliver the best results. With this recipe, I made a simple baklava filling using shredded apples and layered it in between stacks of buttered phyllo dough sheets. Then I topped it all off with drizzled apple syrup.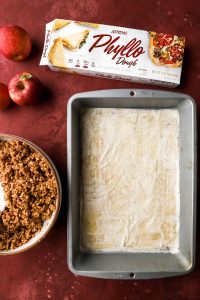 Phyllo Dough Layers
Baklava is simple to make with Athens Phyllo Dough sheets. They're easy to prep and great for layering. The phyllo dough must be at room temperature before use, so thaw it overnight in the refrigerator or on the counter for at least 3 hours. When you are ready to use it, roll out the sheets and cover them with plastic wrap, then a slightly damp towel to prevent drying out. Keep phyllo covered until needed.
Each 16-ounce phyllo dough package comes with 2 rolls, approximately 36 sheets total. You'll need a solid base to build your Apple Pie Baklava upon. Start with a thick layer of about 12 phyllo sheets, then add a layer of filling. Top the filling with 6 more phyllo dough sheets, then add a second layer of filling. Repeat with 6 more sheets and a third layer of filling. Top it off with a thicker layer of sheets (about 12). This will help the baklava retain its shape when baked.
Apple Pie Filling
The key to get the apple pie filling just right is to make sure the consistency isn't too watery. The best way to do that is by letting the shredded apples sit for a few minutes until there is a puddle of juice sitting around them. The use of powdered sugar in this recipe will help draw out the excess water from them. Strain the apples and reserve the remaining juice for the syrup.
Ingredients
Apples: To peel your apples, you can use one of two methods. The first method is to peel and grate them by hand. The second method is to use an apple spiralizer to peel and slice them, then a stand mixer with a shredder attachment to shred the slices.
Sugar: Sugar acts as a macerating agent to soften the apples and dehydrate them. It will draw out and soak up water from the apples while also adding sweetness to the filling. If there's too much water in the filling, the baklava will become soggy, and you'll lose out on the crispy, flaky texture phyllo brings!
Spices: To keep things simple, I stuck with two classic fall spices: cinnamon and nutmeg.
Nuts: In most baklavas, nuts such as walnuts, hazelnuts and pistachios are used. But one of my favorites is pecans, so I mixed them in with walnuts. Since I prefer more finely chopped nuts, I ground them in a food processor – but feel free to chop them coarsely if you prefer the opposite.
Apple Syrup
Simple syrup made with water and sugar or honey is commonly used in baklava. To add some extra apple flavor, I substituted the water with the juice collected from straining the shredded apples. You can add a little water if you're unable to strain enough juice. Once the syrup cools to room temperature, pour it over the Apple Pie Baklava immediately after you take it out of the oven. This is very important because if you pour hot syrup over the baklava, it won't keep its shape and will become soggy. The best way to ensure the syrup has time to fully cool is by making it before the baklava is in the oven.
FAQs
What else can I make using apples and phyllo dough?
Try making Apple Phyllo Turnovers! Take the apple pie filling in this recipe and substitute it for the strawberries in my Strawberry Turnovers with Phyllo Dough recipe. You can even drizzle the apple syrup from this recipe over the turnovers!
What type of apples would you suggest using for this recipe?
Any type of apple will work but know that the type you choose will affect how sweet and wet the apple mixture is. I like to use Gala, Fuji or Honeycrisp apples.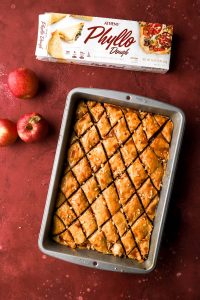 How should I store Apple Pie Baklava?
At room temperature, you can store the baklava in an airtight container for about 3 days. In the refrigerator, you can store it for 7-10 days. To freeze it, keep it in an airtight container placed inside of a freezer bag. Make sure there's no air in the freezer bag. Store for up to 3 months.
I often use Athens Phyllo Dough for holiday desserts because it's amazing and I find it saves me time. If you're interested in another holiday phyllo dessert, try my Gingerbread Pie with Phyllo Dough Crust recipe.
Happy baking, I hope you love this Apple Pie Baklava as much as I do! Once you make it, be sure to post a photo on Instagram and tag us (@baranbakery and @athens_foods).
Recipe
Ingredients:
1 package Athens® Phyllo Dough (9″ x 14″), thawed
6 medium apples, peeled, cored and shredded (about 2 cups)
3/4 cup powdered sugar
1 tablespoon cinnamon
1/2 teaspoon nutmeg
1 1/2 cups walnuts
1 1/2 cups pecan halves
1 cup apple juice, strained from shredded apples
1/2 cup granulated sugar
Directions:
Thaw phyllo, following thawing instructions on package.
Start by making the filling. Peel and core apples and grate them by hand. Alternatively, you can use a stand mixer with a shredder attachment and shred the apples at medium speed. Add the cinnamon, nutmeg and 1/2 cup powdered sugar to the apples. Let it sit for 10-15 minutes.
Place the walnuts and pecans in a food processor and pulse until they are coarsely ground. Strain the apples and save the juice for the apple syrup (there should be about ½ – 1 cup of liquid). Place the apples into a bowl and add the nut mixture and remaining powdered sugar. Toss until sugar is evenly distributed.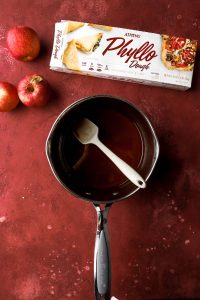 In a saucepan, add the apple juice. If there is less than 1 cup, add some water or extra apple cider to reach 1 cup. Add in the granulated sugar and bring mixture to a boil. Once boiling, reduce heat to medium-low and simmer for five minutes, stirring every minute or so, so the cinnamon doesn't burn. Remove the syrup from the heat and allow it to cool to room temperature.
Preheat oven to 350°F. Unroll and cover phyllo sheets with plastic wrap, then a slightly damp towel to prevent drying out. Butter a 9"x13"x2" pan. Trim the phyllo sheets to match the exact size of your pan, then set aside and re-cover them.
Take 1 phyllo sheet and place it in the prepared pan, pressing it against the edges. Lightly brush the sheet with melted butter. Repeat this process with 11 more sheets so you'll have a total of 12 layered sheets as your base. Evenly spread 1/3 of the apple pie filling on top. Layer 6 more phyllo sheets on top, brushing each sheet with butter, then top with another 1/3 of apple pie filling. Repeat this process with 6 more sheets and the last 1/3 of apple pie filling. Layer 12 more phyllo sheets on top, brushing each sheet with butter (including the top).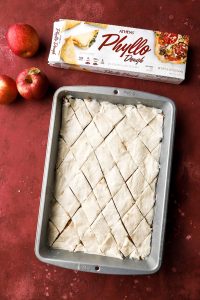 Use a large, serrated knife to slice the Apple Pie Baklava into 24 diagonal slices and bake for 45 minutes, or until golden brown.
Remove baklava from oven and while it's still hot, pour the cooled syrup evenly over top. Sprinkle on extra chopped nuts. Allow the baklava to cool at room temperature for 3-4 hours, or overnight, before serving.
---
For more phyllo recipes, check out our Pinterest page or our recipe library. Be sure to sign up for our newsletter for monthly inspiration as well!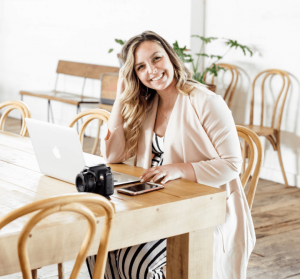 Bernice Baran is not only a baker and food photographer, but also a nurse! She loves putting a twist on nostalgic desserts and using Athens phyllo products to create them. "Athens phyllo products are perfect for making quick but elevated appetizers, meals and treats," says Bernice. To view more of Bernice's content, visit her site and follow her on Instagram (@baranbakery).