Gavin & Karen from Couple in the Kitchen blog took their love of French onion soup and invented a way to make it portable and easy for entertaining. The solution? Athens® Phyllo Shells. They started by taking our crispy phyllo shells, then filling them with caramelized onions, fresh herbs and Gruyère cheese. Read on to learn all about making these quick tarts!
---
Enjoy all the flavors of French onion soup in the form of a bite size appetizer! A favorite soup of ours for wintertime is classic French Onion soup. The problem? It's not easily portable or shareable. Then we thought of a solution: Athens Phyllo Shells. Phyllo can be used for making more than just baklava and other desserts. In fact, while visiting Greece we really enjoyed snacking on phyllo dough appetizers similar to these tarts. The subtly sweet caramelized onions paired with thyme and Gruyère cheese, all packed inside a crispy phyllo shell, make these tarts irresistible.
Caramelized Onion Filling
The key to achieving the perfect French onion flavor is by thinly slicing the onions and slowly cooking them until properly caramelized. Using a mandolin, we sliced the onions as thin as possible. In a pan over low heat, we melted the butter, added the sliced onion, covered and cooked for 10 minutes.
Next is when the caramelization really began. We uncovered the onions and folded Worcestershire sauce, beef bouillon paste, and fresh thyme into them, then let cook for 40 more minutes. Prepare to be amazed at how much the onions will shrink down in size! You'll know they are ready when they look dark brown and taste sweet.
French Onion Filled Phyllo Shells
With the caramelized onions complete, the rest of the recipe was a breeze thanks to Athens Phyllo Shells. Since the shells come pre-baked, all we had to do was fill them with the onions, top with a layer of Gruyère cheese, and place them in the broiler for a few minutes to make the cheese warm and melty.
Athens Phyllo Shells are one of our fool-proof go-tos for appetizers! They're light, crispy and really versatile. We love using them for both sweet and savory dishes. We always keep a couple boxes of them in our freezer!
Recipe
Prep Time: 50 Minutes
Cook Time: 6 Minutes
Makes: 30 tarts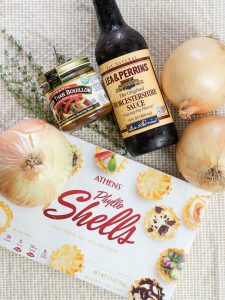 Ingredients:
2 packages (15 count, each) Athens® Phyllo Shells
5 cups Vidalia onions, thinly sliced (about 2-3 onions)
2 tablespoons butter
1 teaspoon Better than Bouillon beef bouillon paste
1 teaspoon Worcestershire sauce
3/4 cup Gruyère cheese, shredded
3 sprigs fresh thyme leaves, picked, plus additional for garnish
Salt and pepper, to taste
Instructions:
Start by thinly slicing 2-3 onions (if you have a mandolin, it will make this process super easy).
In a saucepan over medium-low heat, melt 2 tablespoons of butter.
Once the butter is melted, add the onions to the pan, cover and let cook for 10 minutes until the onions are softened.
Uncover onions and add beef bouillon paste, Worcestershire sauce, fresh thyme leaves, and salt and pepper.
Cook on medium heat for 40 minutes, stirring occasionally until onions caramelize and turn a deep brown color.
Fill the phyllo shells with a scoop of caramelized onion filling, then top with shredded Gruyère cheese.
Broil the shells for 5-6 minutes until the cheese is melted and begins to brown. Garnish with additional fresh thyme.
---
Interested in more phyllo shell recipes of ours? Add our Baked Brie Bites with Cranberry & Prosciutto recipe to your holiday dinner menu. For a holiday brunch, try our customizable Easy Mini Quiches!
And don't forget about Athens Phyllo Dough – our Greek Phyllo Pizza makes a great anytime meal and our Strawberry Phyllo Tart is that light and flaky option every dessert table needs.
For more phyllo recipes, check out our Pinterest page or our recipe library. Be sure to sign up for our newsletter for monthly inspiration as well!
---
About Couple in the Kitchen
Gavin and Karen are home cooks and restaurant connoisseurs living in Austin, TX. Their site is a place you'll find fantastic food & cooking products and tons of delicious recipes that they create together! Find them on Instagram (@coupleinthekitchen) to follow their journey.