Gavin & Karen from Couple in the Kitchen blog dreamed up the best brunch recipe for those occasions when you have few mouths to feed and need something yummy – fast! These Easy Mini Quiches made with our phyllo shells are a great bite-sized addition to any brunch spread. Customize them with your favorite flavors to create your very own impressive assortment. Read on to learn all about making these quick quiches.
---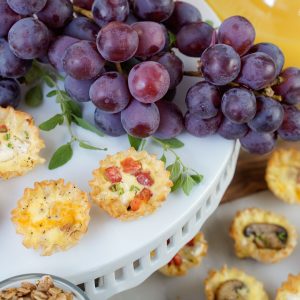 It's safe to say we're obsessed with these easy mini quiches. They're simple to make when hosting a bridal or baby shower brunch, or even just a weekend gathering with a few friends or family. Plus, they'll pair perfectly with whatever else you may have planned for your brunch menu, like parfaits, fresh fruit, bagels and your beverage of choice. Mimosas, anyone?
Using Phyllo Shells
The key ingredient to these semi-homemade quiches is Athens® Phyllo Shells. They come ready to fill with any ingredients you want, right out of the box! No prep required. Their light and flaky layers of phyllo dough have just the right amount of crunch for a quiche's crust.
Mini Quiche Flavors
We love how versatile this recipe is! It gives you the freedom to experiment with different flavor combinations and adapt it to fit certain dietary needs. For our brunch spread, we made three types of mini quiches:
Bacon and Cheddar Cheese
Mushroom and Parmesan Cheese
Roasted Red Peppers and Feta Cheese
Feel free to branch out and try other popular quiche flavors such as ham and cheese, spinach and artichoke, or Florentine quiche (spinach and cheese). With this recipe, the possibilities are endless!
Recipe
Ingredients:
2 packages (15 count, each) Athens® Phyllo Shells
2 eggs
⅓ cup heavy cream
Salt and pepper, to taste
Mini quiche fillings of choice
Garnish of choice
Directions:
Preheat your oven to 325°F.
Place Athens® Phyllo Shells on a baking sheet.
In a bowl, scramble together eggs, heavy cream, salt and pepper.
If any of the fillings you selected require cooking such as bacon or sautéed mushrooms, pre-cook them as needed before assembling your mini quiches.
Fill each phyllo shell about halfway full of your selected quiche fillings.
Using a measuring cup, pour the egg mixture into each phyllo shell until full.
Bake in oven for 12-14 minutes or until the eggs have set.
Garnish as desired and serve.
---
 For more phyllo recipes, check out our Pinterest page or our recipe library. Be sure to sign up for our newsletter for monthly inspiration as well!
 About Couple in the Kitchen
Gavin and Karen are home cooks and restaurant connoisseurs living in Austin, TX. Their site is a place you'll find fantastic food & cooking products and tons of delicious recipes that they create together! Find them on Instagram (@coupleinthekitchen) to follow their journey.