Sam from Frosting & Fettuccine brought us this Strawberry Phyllo Cheesecake recipe that is sure to wow any crowd! Its golden, flaky crust is made with layers of our phyllo dough and its creamy filling is laced with strawberry jelly. As Sam says, why make a cheesecake with a classic graham cracker crust when you can create this incredible showstopper of a cake? Read on for a step-by-step guide.
---

This easy strawberry cheesecake is a total showstopper! The crust is made using Athens® Phyllo Dough instead of graham cracker to make it a little more fancy. The filling is super creamy and laced with strawberry jelly, making this the perfect Mother's Day dessert!
Cheesecake is one of my favorite desserts to bake. Whether you're going for the classic New York-Style cheesecake, creamy cheesecake bars, or even cheesecake stuffed cupcakes, you really can't go wrong in my book!
This cheesecake might look intimidating at first, but don't be fooled. It is seriously so easy to make! You start by crisscrossing buttered pieces of phyllo dough in the bottom and up the sides of a springform pan. Then, you fill it with the cream cheese filling, swirl with jelly and bake! The result is this insanely crispy crust and luscious creamy filling. Sorry graham cracker crumbs, you have been replaced.
What You'll Need
Using a springform pan for this recipe works best because it allows you to lift the cake out of the pan without damaging the sides too much. You could use a regular cake pan, but the effect wouldn't be the same because you won't be able to remove the cake from it.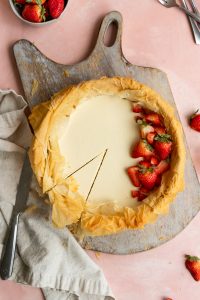 For the crust:
For the cheesecake:
Cream cheese
Granulated sugar
Sour cream
All-purpose flour
Eggs
Milk
Vanilla extract
Strawberry jelly or jam
How to Make This Cheesecake
Step 1: Make sure to start with a fully thawed roll of phyllo dough. If you unroll it before it has thawed, it will crack. Yes, this takes a little foresight. But it is SO worth it in the end.
Step 2: Melt ½ cup butter and get out your springform pan. Brush each layer of phyllo dough with melted butter and lay it in a criss cross pattern in the pan, pushing down the sides slightly and allowing the rest to hang over the side. Complete until all sheets are done!
Step 3: Make the cheesecake batter, and pour half of it into the crust. Dollop 3 scoops of the jelly over the batter and then swirl with a knife or toothpick. Add the other half of the batter on top and bake for 30-35 minutes. The cheesecake is done when the center looks set, but it has a slight jiggle to it. The cake will firm up in the fridge.
Step 4: Chill the cake for 4 hours or overnight, top with fresh strawberries and serve!
How to Store & Freeze This Cheesecake
To store in the fridge, lightly cover the cheesecake with plastic wrap. Be careful with the edges of the flaky phyllo crust! Store for up to 5 days.
You can freeze this cheesecake without the fresh fruit, but I don't recommend it because you might damage the flaky top. If that doesn't bother you, then wrap it tightly in tin foil and place in an airtight freezer-safe bag and freeze for up to 2 months.
Tips for Success
Be careful when lifting the cake out of the springform pan, some pieces may crack.
Chill the cheesecake in the refrigerator uncovered (so you don't ruin the sides) for at least 4 hours, then decorate and top it with toppings.
Before swirling in the strawberry jelly, warm it up slightly so that it's not lumpy.
To make the cheesecake batter smoother, mix it on medium speed for at least 5 minutes.
Tips for Working with Phyllo Dough
Make sure the phyllo is completely thawed and at room temperature for best results. Do not open the dough until all other ingredients are assembled and you are ready to work. You can thaw the phyllo by two different methods:

Thaw in the refrigerator: Remove sealed phyllo roll from box and place in refrigerator overnight. Bring phyllo dough to room temperature prior to use (about 2 hours).
Thaw at room temperature: Remove sealed phyllo roll from box. Place phyllo on counter at room temperature for at least 3 hours.

To keep it from drying out, immediately cover unrolled thawed phyllo with plastic wrap, then a slightly damp towel. Uncover to remove sheets as needed, and then promptly recover.
Remove any phyllo you don't need for your recipe, re-roll, wrap in plastic and refreeze up to expiration date.
If you don't have butter on hand, you can use a cooking spray instead. This makes the process much faster too.
It's okay if the pieces crack, this is a rustic cheesecake anyway! Phyllo is more forgiving than you think. If it tears, simply patch it back together and layer with another sheet.
Decorating the Cheesecake & Alternatives
Don't feel limited to only strawberries. Feel free to decorate your cheesecake with any type of fresh berries. You can also add whipped cream, nuts, or drizzled chocolate. Get creative!
Want a bite-sized dessert instead? Use Athens® Phyllo Shells! Follow the same recipe for the batter, then fill and bake the phyllo shells for 8-10 minutes. Chill for an hour then add your favorite toppings!
Either way you make this recipe, you can't go wrong. It's a super pretty spring dessert for any kind of gathering or brunch.
---
Recipe
Ingredients:
1 roll Athens® Phyllo Dough (9"x14"), thawed
½ cup unsalted butter, melted
16 ounces cream cheese, softened
½ cup granulated sugar
⅓ cup sour cream
2 ½ tablespoons all purpose flour
2 large eggs
¼ cup milk
1 teaspoon vanilla extract
¼ cup strawberry jelly
Fresh strawberries, for garnish
Directions:
Thaw one roll of phyllo, following thawing instructions on package. Preheat oven to 350°F. Unroll and cover phyllo sheets with plastic wrap, then a slightly damp towel to prevent drying out.
Take the first layer and brush it with butter. Lay the phyllo over a 9-inch springform pan, pressing into the sides and letting the top overhang. It should reach the length of the whole pan. Brush the next sheet with butter and place it crosswise from the other sheet in the springform pan, pressing down and leaving the overhang on the sides. Repeat this process until there are no more sheets of dough left. Place a damp paper towel over the pan and stick it in the fridge until the batter is ready.
Warm up ¼ cup of strawberry jelly in the microwave and set aside.
Use a stand mixer or a hand mixer. In mixing bowl, add the 2 packages of softened cream cheese and ½ cup sugar. Mix on low speed until incorporated, about 1 minute. Add in the ⅓ cup sour cream and 2 ½ tablespoons flour. Mix again until combined, about 1 minute. Add in the 2 eggs, one at a time, mixing in between each addition. Add in the milk and vanilla extract and beat on medium speed until there are barely any lumps in the batter, about 5-6 minutes.
Pour half of the batter into the crust. Spoon 3 tablespoons of strawberry jelly onto the cheesecake batter. Swirl the jelly into the batter using a knife or a toothpick. Add the remaining batter on top.
Bake for 30-35 minutes until the cheesecake looks firm on the sides but is slightly jiggly in the center. Cool on the counter for 10 minutes, then chill in the fridge for at least 4 hours or overnight.
Decorate with berries and serve!
---
For more dessert recipes, check out our Pinterest page or our recipe library. Be sure to sign up for our newsletter for monthly inspiration as well!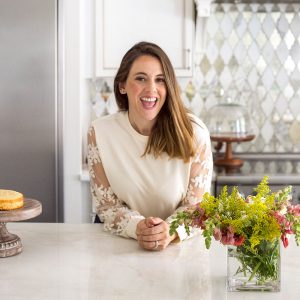 About Sam
Sam Adler is Le Cordon Bleu-trained pastry chef who loves to bake! Her site is a place where you will find impressive yet achievable dessert ideas and recipes. Check out our Q&A with her below. You can find her on Instagram (@frostingandfettuccine) too!
What would you call your personal style of food?
Personally, I love to create food that looks impressive but didn't take me all day to make in the kitchen. I love one-bowl desserts and using shortcuts with store-bought items and really dressing them up!
What gave you the inspiration for your phyllo dish?
I love a good cheesecake! It's one of my favorite desserts to make. Strawberries are a great addition to this classic dessert.
How do you like to use Athens phyllo products in your kitchen?
I love wrapping anything in Athens phyllo products – they work so well with savory dishes like a spinach boureka and for sweet desserts like a breakfast hand pie!