Aleka from Bite Sized Kitchen Blog brought us this deliciously easy, cold appetizer recipe that you can serve at any party or enjoy as a snack at home. Read on to see how you can take our flaky Phyllo Shells and fill them with creamy burrata cheese and roasted red peppers, then top them off with some flavorful garnishes. Your family and guests will devour them so quickly you may just want to consider doubling the recipe.
---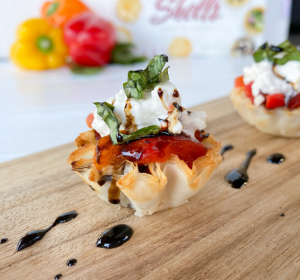 These stuffed phyllo cups are such an easy and quick appetizer you can make ahead of time! They have just four ingredients easily available at your local supermarket or from food delivery services like Instacart, and take less than 10 minutes to assemble! The filling is salty, creamy and slightly sweet from the balsamic vinegar glaze. Paired with crunchy, flaky phyllo dough, they are the perfect bite-sized finger food!
How to Make Your Stuffed Phyllo Cups
This recipe is a spin-off of my Burrata with Roasted Veggies tapas dish. It has all the same delicious flavors but turned into bite-sized hors d'oeuvres, making them ideal for a special date-night in, baby or bridal showers, or any fancy party!
For this recipe, I used Athens® Phyllo Shells. They are so convenient to have on hand when suddenly expecting guests. I like to keep a few boxes in my freezer at ALL times so I can quickly defrost and fill them last minute!
---
How I Made These Cups
These are the steps and main ingredients I used to fill the frozen phyllo cups. The complete recipe is also available here. *Note: I added a balsamic glaze at the end which is optional.
Step 1: First, I drained my jar of roasted red peppers (red and yellow) and chopped them up finely.
Step 2: Then, I chopped up both of my burrata cheese balls and added ¼ teaspoon salt. *Note: Burrata cheese comes in a ball. The inside is very creamy, and the exterior is tougher like mozzarella. Chop up the entire ball (including exterior) until the cheese is uniformly creamy.
Step 3: I added roasted red peppers to the defrosted phyllo cups and topped each with a dollop of the burrata cheese.
Step 4: I drizzled each cup with balsamic glaze and garnished them with freshly chopped basil leaves.
---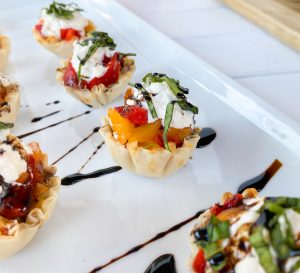 How Far in Advance Can I Make These?
This is a question I get a lot with many of the appetizers on my blog. We all want to make the food as far in advance as possible. However, with phyllo cups, it can get tricky. You don't want something that was supposed to be crispy and crunchy to get wet and soggy. That's the worst. So, in order to keep these as crispy as possible, there are a few things you should do. Keep reading.
How to Make These in Advance While Keeping Them Crispy
Tip #1: Pre-bake your cups! Although these can easily be a no-bake appetizer recipe, baking them at 350°F for 3-5 minutes before filling them will yield a crispier and crunchier cup. Then, let cool and fill your cups before you're ready to serve. These should stay crispy for at least 2 hours with filling inside.
Tip #2: Drain ALL the liquid from your roasted red peppers. Moisture is our enemy when it comes to crispy food. So, make sure you drain your roasted red peppers very well! I suggest dabbing them with a paper towel to get as much moisture out as possible.
Tip #3: Make your filling ahead of time and fill at the last minute. Although these cups will stay crispy for at least 2 hours, you don't want to prepare them 2 hours before your guests arrive. Instead, chop up and drain your roasted red peppers before. Chop up your burrata cheese. Then keep both in the refrigerator until you're ready to fill the cups.
---

Transporting Your Phyllo Cups
If you plan on taking these to a shower or party, it is important that you do not assemble them before. They could fall over or get soggy during the time it takes to transport. You also do not want to freeze these assembled because they will be soggy when you defrost them.
Instead, chop up your cheese and roasted red peppers in advance and place in two separate airtight containers or in two separate large zip-top bags. Then pack your two bags/containers, pre-packaged phyllo cups and balsamic glaze bottle in a large bag or cooler and go!
Then, when you arrive at your destination, remove all of the phyllo cups from the package, and begin assembling. If you used zip-top bags, you can easily snip off a corner to create a makeshift piping bag. Aim for a hole the size of a quarter. This will allow you to quickly fill each cup! Trust me, this is the way to do it. Plus, it will make you look like a catering pro!
---
For more appetizer recipes, check out our Pinterest board or our recipe library. Be sure to sign up for our newsletter for monthly inspiration as well!
 To view more of Aleka's content, visit her site, and follow her on Instagram (@bitesizedkitchen).