The flowers are blooming, the days are getting longer, and we're gathering again with friends and family. 'Tis the season for social butterflies to make their spring debut … and we're serving up phyllo dishes that are designed to feed a crowd. Whether you're hosting a shower, attending a potluck, or getting friends together for a shared meal, these fresh recipes will help your table shine
---
Sweet Impressions

Phyllo is naturally vegan, making it the ideal foundation for plant-based eaters and those avoiding dairy. If plums aren't quite in season where you live, any stone fruit will work — try apricots or peaches to mix up the flavor profile.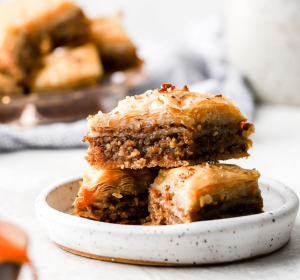 Carrot Cake Baklava
Is it baklava? Is it carrot cake? It's the best of both worlds! Layers of flaky phyllo are filled with sweet carrot shreds, spiced nuts and a splash of maple syrup.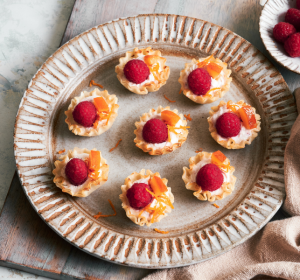 Honey Goat Cheese Raspberry Swirls
Need a quick dessert that's not overly sweet? These swirls hit the spot. Goat cheese provides unexpected tang, while fresh raspberries and honey brighten things up.
Savory Bites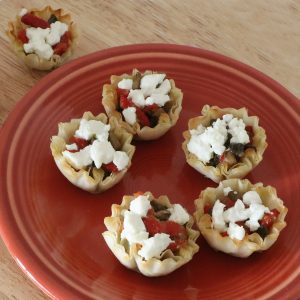 Roasted Red Pepper Mushroom Pesto Bites
As dinners shift from meat-heavy entrees to plant-forward meals, mushrooms have been elevated from steak garnish to main attraction. Here, these versatile little stars have a mild earthiness that balances the tangy cheese, sweet char of roasted red peppers and herbal brightness of pesto. Take these to your next dinner party or shower and watch the compliments roll in.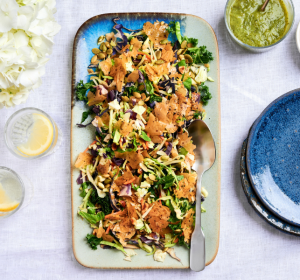 Salad with Phyllo Shards
Don't just serve a salad. Serve a fancy salad. Phyllo shards are a next level crouton that looks elegant and adds crunch. They're a stellar addition to any tangle of mixed greens that you toss together, so get creative!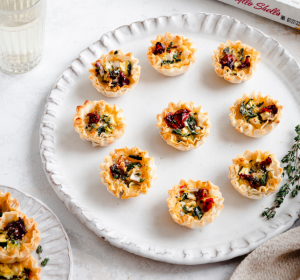 Zucchini and Sun Dried Tomato Mini Quiche
Step aside, cucumber sammies. No bridal shower or baby shower would be complete without mini quiche. Zucchini and sundried tomato add color, zing and texture to an easy egg custard that whips up fast.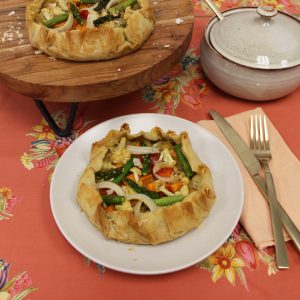 Roasted Vegetable Galette 
Roasting just about any veggie intensifies its flavor and caramelizes its natural sugars. Add that to a simple phyllo crust — galette is French for "doesn't require as much effort as pie" — and you're well on your way to a delicious meal.
---
As plant-based diets continue to trend, we're making the most of fresh ingredients that add color to your springtime spread. For even more ideas and inspiration, check out our Pinterest page or visit us on Instagram. We'll be whipping up spring recipes all season long