As we've all been staying home more often, snacks and quick bites have taken on new importance. Whether you need a midmorning pick-me-up, a late-night sweet tooth fix, or a 3 p.m. hangry helper, you can pair our phyllo shells with basic pantry staples for satisfying results.
---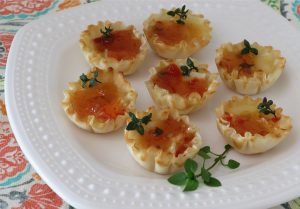 The "It's too late for breakfast and too early for lunch" snack
Hey, we get it: it's not really brunch if it doesn't come with a mimosa and a sunny outdoor patio. If you're home and just need something to tide you over, these easy bites will do the trick:
Store-bought egg salad, chicken salad, or any other deli go-to plus a crispy shell can satisfy your craving for crunchy and creamy
Jam. Done. These brie and red pepper jelly bites are a fun take on classic toast
If a bagel feels like way too much bread, pop your lox and cream cheese in a shell for a lighter bite
---
The "Please feed me" afternoon snack
If you're anything like us, you're no stranger to experiencing the afternoon snack attack. You've been working all day, dinner is nowhere in sight … and you need food now. Here's what to make.
For a twist on a classic PB&J, give these PB & fruit cups a whirl
---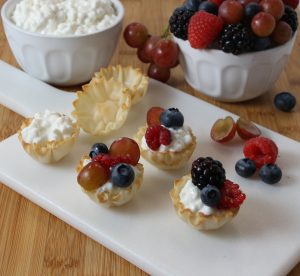 The "I just want a little something sweet" snack
Sometimes, a square of dark chocolate just won't cut it. These quick desserts take just a few minutes to whip together, but the results will help you go to bed happy.
Microwaved caramel dip, whipped cream, diced apples and a sprinkle of cinnamon create an easy take on a more complicated pie à la mode
And by the same token, fudge sauce + refrigerated whipped topping + a few berries sprinkled on top = a fancy fruit tart in no time!
For a late night treat that you can feel good about, these fruity lite bites pack a protein punch from cottage cheese and antioxidant-rich berries
---
Whatever you make, make it in a phyllo shell! From apples & peanut butter to deli salads & dips to your favorite cheese, they're the perfect vehicle for pantry or fridge items you likely already have on hand. And for even more snack-time ideas, head to our Pinterest page!