Life is sweeter with a spoonful of honey! The legendary ambrosia, drink of the gods, honey is a natural sweetener. Just a touch can make any ordinary meal divine. Mix honey and phyllo dough and you'll get the classic pairing that's been loved in Greece for thousands of years. Get stuck on this sweet & flaky combo!
---
The Tried & True Treat
If we're talking about phyllo and honey, we have to start with baklava. Nuts covered in honey and spices baked in our phyllo cups are perfect for making a simple 30-minute version of the true classic.
---
The Sweet
Honey and phyllo can create more sweetness than just baklava! The rich flavor of honey tops the flaky, chewy layers of phyllo for a classic dessert taste.
This ricotta honey stone fruit tart is perfect to welcome in the warmer seasons, while stone fruits are at their ripest and look stunning on any dish.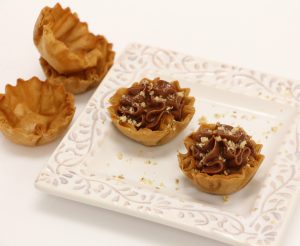 Honey greek yogurt shells topped with mandarins are a light, easy, and healthy treat to enjoy in the morning for a pick-me-up or after a warm, sunny afternoon.
Nutella, honey, and goat cheese. These three ingredients come together to make quick, rich, and delicious tartlets for any night of the week.
---
The Savory
Take your favorite dinners and appetizers to the next level. Honey has just the right hint of sweetness to accentuate your favorite dishes.
Looking for an upgrade to grilled cheese? This phyllo-wrapped honey roquefort is the perfect mix of salty cheese and sweet honey.
A twist on your favorite corn muffin, these spicy corn and cheddar phyllo shells are topped with a sweet and tangy honey sour cream.
Want a make-ahead appetizer or snack that everyone will love to munch on? These honey bacon goat cheese phyllo bites are simple to put together but tasty whenever.
---
Looking for more ways to use the nectar of the gods? Reach out to us on Facebook or Instagram and tell us what you've been craving, or check out our Pinterest page for more recipe ideas.