We've all got our go-to's. The recipes that are a cinch to pull together, bake up fast, and taste delicious even if you sub an ingredient or two. These are our standbys when we need apps, snacks, and desserts that can please a crowd.
---
An Adaptable Greek Classic
Spanakopita has been a staple of Mediterranean cuisine for the last 400-ish years. TBH, we're not surprised this triangle-shaped marvel of crisp dough, earthy greens and melted cheese has pleased taste buds for generations. Swap kale in place of spinach, use up whatever cheese or slightly wilted herbs you've got left in the crisper drawer (the filling softens up in the oven regardless!) and you'll have an appetizer fit for a toga party, banquet or weeknight get-together.
---
When I Dip You Dip We Dip 
Whether you need a game day snack, an easy appetizer or a simple dessert, our phyllo shells have got you covered. Whip up this 4-ingredient peanut butter dip for a spoon-it-yourself sweet treat, or bake store-bought spinach & artichoke dip into our shells for a 5-minute app. Basically, if you can spoon it, you can serve it in a shell. Plus, our chocolate and graham cracker phyllo shells mean you can endlessly riff on dippable combinations.
---
A No-Fail Dinner
Layer sheets of dough, sprinkle with tasty stuff, throw in oven. It doesn't get much better than a phyllo tart. Top with in-season veggies, grated cheese and crumbled bacon for good measure. We love this summer tomato and corn version, this asparagus number (keep it vegetarian or add prosciutto to please the carnivores in your life), and this orange ginger salmon tart. Pair with a simple salad, and you've got dinner ready in under 30 minutes.
---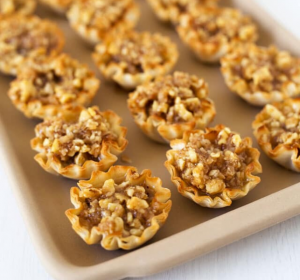 The OG of Phyllo Eats
We couldn't give you a list of our favorite recipes without baklava in that #1 spot. It's not just classic … it's iconic. Keep it traditional or give it a twist. We particularly like this Hawaiian spin, this pumpkin-spice holiday blend, this kid-friendly PB&J version and this savory zucchini recipe. Don't have time to thaw dough? The filling tastes equally great in a shell … especially when drizzled with melted chocolate. The world is your oyster phyllo shell.
---
For even more of our favorite phyllo recipes, check out our recipe library and our Pinterest page. We've got hundreds of ideas that cook up fast — and use pantry ingredients you likely already have on hand. And if you've got a failproof, essential phyllo recipe, let us know!